COATING & LINING
EXTERNAL COATING STANDARDS
SURFACE PREPARATION : ISO 8501 – 1, ISO 8501 – 2, ISO 8501 – 3
POLYETHYLENE COATING : DIN 30670,EN 10288,UNI 9099,NFA 49710, AWWA C215
POLYPROPYLENE COATING : DIN 30678, NFA 49711
EPOXY COATING : EN 10289, AWWA C210, NFA 49709
BITUMEN : DIN 30673,
FUSION BONDED EPOXY : AWWA C213
POLYURETHANE : EN 10290, AWWA C 222
INTERNAL COATING STANDARDS (LINING)
SURFACE PREPARATION : ISO 8501 – 1, ISO 8501 – 2, ISO 8501 – 3
EPOXY LINING : EN 10289, AWWA C210, NFA 49709, API RP 5L2
FUSION BONDED EPOXY : AWWA C213, API 5L7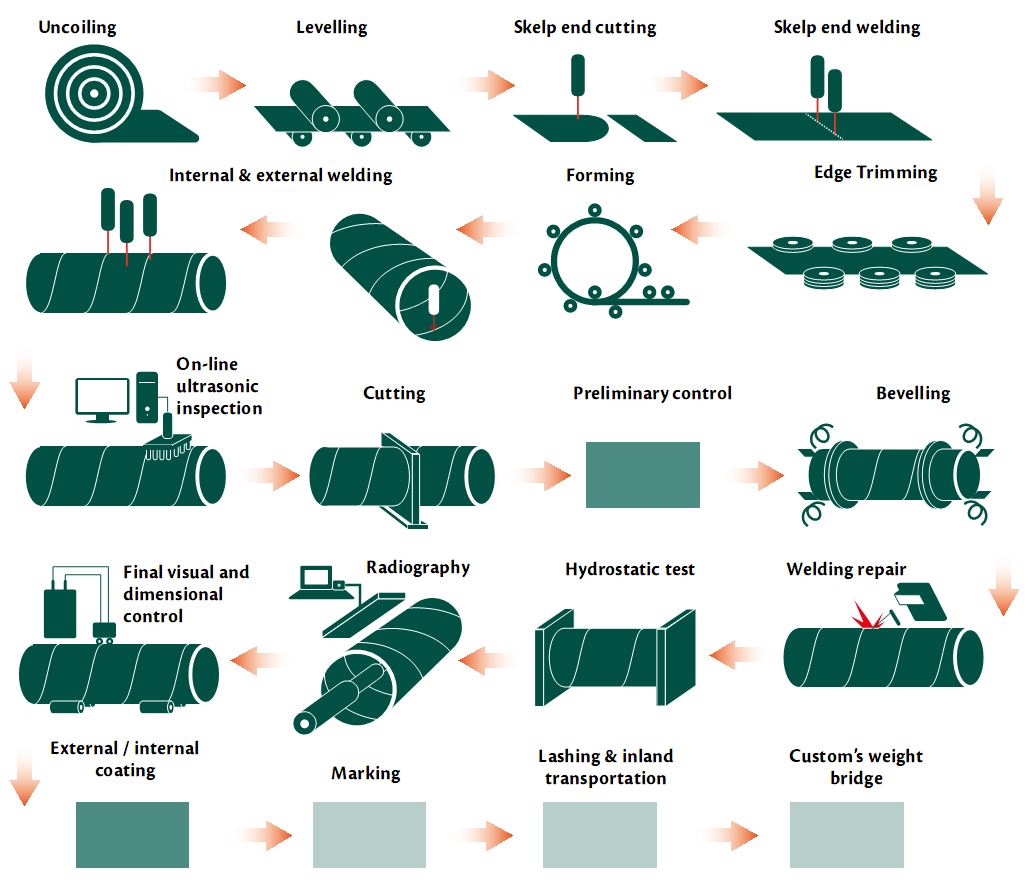 SURFACE PREPARATION
All surfaces must be thoroughly clean, dry, sound and free from grease, oils, waxes and all loose materials. For this purpose, the internal and external surfaces of the pipes are cleaned by spraying steel grid by use of special blasting machines.
SANDBLASTING
Sandblasting is very neccessary for surface preparation for steel pipes. Sandblasting removes rust, existing coatings, mill scale, dirt, oil, grease, and other contaminants. It creates an anchor pattern for the primer.
Sandblasting does not remove all the salt from the substrate surface. Before sandblasting newly manufactured or repainted steel, pressure washing or steam cleaning is necessary. Salt Test Kits are used for determining the cleanliness of the surface.
There are standards for the degree of cleanliness of the sandblasted steel substrate. All paint specifications that include sandblasting should specify the type of blast required. The standards currently in use follow the guidelines provided by NACE (National Association of Corrosion Engineers), SSPC (Steel Structures Painting Council) or Sa (Swedish Pictorial Standards).
"Commercial Blast": NACE 1-2-3, SSPC-SP5-6-10, or Sa 2 ½, all those method of preparing steel surfaces provides free of all visible oil, grease, dirt, dust, mill scale, rust and paint. Generally, evenly dispersed, very light shadows, streaks and discolouration caused by stains of rust, stains of mill scale, and stains of previously applied paint may remain on no more than 33% of the surface. Slight residues of rust and paint may also be left in the craters of pits if the original surface is pitted.
The sandblast profile: the height from the top of the peaks to the depth of the pits, is a consideration when choosing a primer. A common practice is to recommend a primer that can easily be applied to a dry film thickness that exceeds the height of the profile.
COATING & LINING
POLYETHYLENE COATING
A dust coating is sprayed onto th cleaned and warmed pipe, creating a sticky coating. When the pipe is hot, liquid polyethylene band is wrapped around the pipe. In order to protect the outer surface against corrosion and to prolong its lifespan, three layers of polyethylene or polypropylene coating are applied. The coating is in accordance with DIN 30670, 30678, TS 5139 and UNI 9099 standards.
Following to surface preparation , pre-heating is managed on a continuous coating line without any risk of deterioration (external pipe wall, bevels, coating) during the various heating, powder spraying, curing and quenching operations. The pipes are heated for coating application using natural gas with back system. The pipe temperature shall be according to the production and coating norms, The temperature is measured continuously by the control equipment which shall be pyrometer, thermocouples, infra-red sensors, or equivalent proper methods.
No chemical treatment of the surface of steel using chromates, phosphates or any other chemical is allowed,to improve adhesion. Required adhesion is be obtained only by using suitable fusion bonded epoxy primer and surface preparation.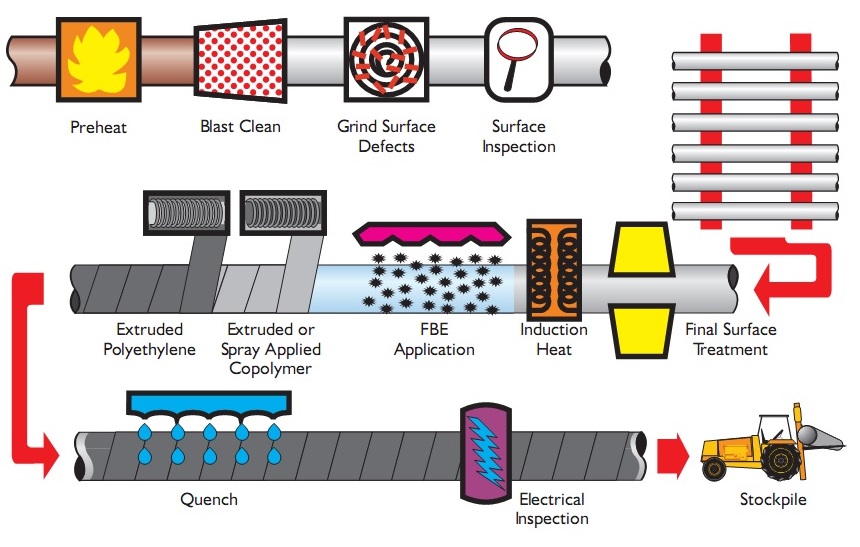 PE Coating process consists of ;
First Layer : Electro statically applied fusion bonded epoxy primer
Second Layer : Extruded adhesive wrappingThird Layer : Extruded polyethylene wrapping Coating
Visual Inspection

Impact Resistance

Coating Thickness

Indentation Hardness

Holiday Test

Elongation At Failure

Adhesion Test By Hanging Weight

Cathodic Disbonding

Electric Resistivity
THREE LAYER PE COATING SYSTEM
ADVANTAGES:
Excellent corrosion resistance. When exposed to either acid or alkaline media, an extended lifetime in highly corrosive soils is assured

Strong steel adhesion: 20 times more adhesive than traditional plastic tape systems

Excellent cathodic disbondment test results

Excellent mechanical resistance

Free of holidays: The hot extrusion method used to perform the coating assures a continuous and a uniform thickness profile, without air bubbles and holiday-free

High dielectric resistance

Superior bending ability for pipe laying applications

High impermeability: Both the high-density polyethylene has low water permeation characteristics that allow improved isolation from the surrounding sea water compared to other coating systems
EPOXY LINING AND COATING
The main application field of solvent-free epoxy paint is fresh water lines. This kind of process cures a coating with excellent corrosion resistance to fresh water, sea water, crude oil and to abrasion. It is applicable in thick coats by standard heavy duty airless spray equipment. Harmless to grain cargo. It use as a lining in potable water tanks and pipelines, where solvent-free materials are required.
If required to be used for potable water, the surface should be preparied to abrasive blasting to min. Sa 2½ with a surface profile corresponding to ISO Comparator Rough Medium (G) profile.
Oil and grease must be removed with suitable detergent, salts and other contaminants by (high pressure) fresh water hosing prior to blasting. After blasting, clean the surface carefully from abrasives and dust.
Steel surfaces having been exposed to salt water, excessive amounts of salt residues in pitting may call for dry abrasive blasting, high pressure fresh water hosing, drying, and finally, dry abrasive blasting again. Alternatively, water jetting may be used provided the steel surface has already the surface profile as described above. The application shall be done with twin feed hot airless spray equipment complying with the instructions recommended and given by the paint manufacturer and shall be done in a manner to prevent sags and runs and to provide adequate thickness in crevices and angles.
There are two methods fo application ; Fixed boom system consists of : Fixed boom and pipe cart for linear movement and pipe turning roll on pipe cart for circumferential movement of pipe.Movable boom system consists of : Boom/boom carriage and pipe turning roll unit
LIQUID SOLVENT FREE EPOXY LINING SYSTEM
Advantages of solvent-free coatings combine a number of technical, economical and ecological nature.
Solvent Free Epoxy coating does not support bacteria and fungal growth.

Solvent Free Epoxy coating has no effect on drinking water quality. The coating should neither affect the taste and flavor of the drinking water, nor should migrate any substance into the water in such quentities that it can be injurious to the health of the consumer.

Solvent Free Epoxy coatings offer further advantages over cement mortar linings in soft water areas, and that the life expectancy of correctly applied epoxy coating is in excess of 60 years.
EPOXY COATING TESTS
Surface cleaning degree

Surface roughness

Coating thickness

Shore D hardness

Impact resistance

Adhesion test - pull-off

Curing test

Electrical Insulation test

Cathodic disbondment test
Coating Types Comparison
In all over the World the most prefered coating type for both water pipelines and gas/petroluem pipelines is the 3 layer Polyethylene Coating due its superior properties. The percentage of the usage of 3 Layer Polyethylene Coating can be said as 90% and sometimes 3 Layer Polyprophylene Coatings can also be preferred in small percentages due to the differences in the environmental conditions. The rest of the coating types are not very common for the external protection of the pipelines. One of the main significant property for PE and PP coatings is the longer service life of the coating comparing to others. In addition, as the thickness of the PE-PP coating are higher than the other coating types , these coatings provide better mechanical protection than the others. Also, the cathodic disbonding property of PE and PP is always better than the other type coatings. The comparison tables for PE-PP-PU coatings can be found in below tables.
COATING TYPE

TYPICAL PROPERTIES

3LPE

3LPP

PU

Estimated Service Life

>50 years

>50 years

>30 years

Adhesion

Excellent

Excellent

Excellent

Impact Resistance

Excellent

Excellent

Good

Flexibility

Excellent

Excellent

Poor

Cathodic Disbondment Results

Excellent

Excellent

Good

Electric resistivity

Excellent

Excellent

Good

Repairability

Easy

Easy

Difficult

Joint application at site

Easy

Easy

Difficult

Resistance to UV (long term)

Excellent

Excellent

Good

Resistance to heat (long term)

Excellent

Excellent

Good

Elogation

Excellent

Excellent

Good

Abrasion resistance

Excellent

Excellent

Good

Water absorption

Less

Less

Medium
BITUMEN COATING
To prevent rusting in pipes used for natural gas and petrol lines, this coating is applied to the outside of pipes by wrapping. All our applications are in accordance with the following applied standards: TS 4356,DIN 30673
Pipes can be coated externally with bitumen + reinforced glass as per DIN 30673 to maintain a higher corrosion strength.
The bitumen layer coated on the pipe surface can increase the anti-corrosion properties of the casting pipes. The coating of the equipment has the effect of flat and tidy surface, free of bubbles and the solid fixing between the coating layer and the coated body.
Reinforcement can be maintainedby fiber-glass applications
USAGE/PURPOSE (Ideally suited for) ;
Protection of galvanised iron gutters, downpipes, metal pipes and metals exposed to weather Priming dry concrete decks An adhesive to adhere to Malthoid to metal