ABOUT OUR COMPANY
MAZLUM STEEL PIPES established in Adana, TURKEY, founded by Mazlum Mangtay whose one of the most referanced technical person at his times.
The company was focused on drilling since the 1950s; and began manufacturing pipes in 1987 after experiencing difficulty finding good quality pipes for its own wells. When company started producing spiral-welded steel pipes in 1995, Mazlum Pipes secured its position as an important brand name in Turkey's pipe sector as well.
In June 2010 the company moved its main facilities to a new locatiom in the Adana Industrial Region. The new 36.000m2 location includes an area dedicated to polyethylene coating. Mazlum Mangtay, Co. started out as a local family company in Adana and has grown to become one of Turkey's most well established corporations.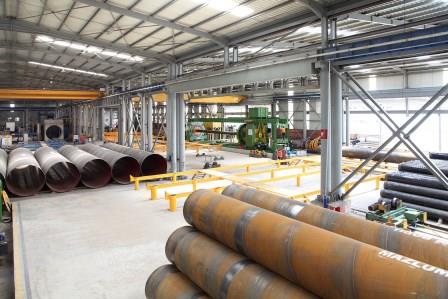 The addition of a third spiral-welded pipe machine has made it one of Turkey's most sought-after companies. The addition of the new factory has almost doubled the company's production with an annual capacity now reaching 80.000 tons, meeting Turkish and international standards. MAZLUM STEEL PIPES plans to increase its exports to include not only Turkey, but countries around the world.
MAZLUM STEEL PIPES has management system certifications like; ISO 9001, ISO 14001, OHSAS 18001, API Specification Q1
Our Pipe Mill produces Natural Gas, Petroleum and Petrochemical Line Pipes, Drinking Water, Potable Water, Waste Water and Irrigation Pipes, Piling Pipes, Construction Purpose Pipes and Special Purpose Pipes and Fittings.
MAZLUM STEEL PIPES is able to manufacture spirally welded steel pipes in accordance with API, DIN, BS, AWWA, UNI, ASTM and Turkish Standards.
MAZLUM STEEL PIPES has the capability of coating of the pipes with epoxy, bitumen, coal-tar enamel, polyethylene, polypropylene and polyurethane in accordance with the customer specifications and the requirements.